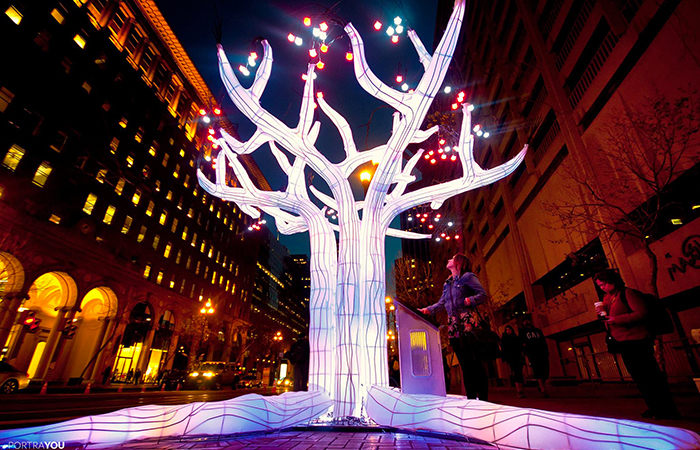 Photo by Tex Allen
The Tree of Changes is an interactive sculpture that captures, aggregates and visualizes the individual and cumulative thoughts, wishes and sentiments of people.
Commissioned and partially funded by Yerba Buena Center for the Arts and the City of San Francisco for the Market Street Prototyping Festival 2015.
Installed in April 2015 at the Embarcadero, San Francisco and in May 2015 at Bay Area's Maker Faire.
The Team
Yael Braha: Artist (Original concept, Design (tree), 3D modeling, fabrication, producer)
Vlad Spears: Interactivity, Audio & LED programming 
Adam Bernstein: Design (base, wishes), engineering, LED, Electronics
Ding Dong: Fabrication, Electronics & guidance
JoeJoe Martin: LED, Electronics & guidance 
John (Parts) Taylor: LED, Electronics & guidance 
Aïcha Doucoure: UX Design
Natasha Nicolai: Research 
Matthew Goss: Sentiment Analysis, Machine Learning
Desmond Shea: Electronics, Audio
David Piller: Fabrication, Ring Master
Sam Wysocki: Fabrication, Productivity Master
Sugar Ray Ray Riggins: Seamstress
Chach Sikes: Additional Programming
Eugene Huang: Video
Lincoln Smith: Video & Edit 
Thank you: Liz Judkins, Peef, Hoss Ward, Michael Christian
Tree of Changes
Categories →
Installations
Interactive
Sculptures